Friends and Heroes: Exodus (DVD)
Availability:
Same Day FEDEX Priority Shipping
Shipping:
Calculated at checkout
Gift Wrapping:
Options available
---
Product Description
Friends and Heroes: Exodus
(DVD)
The Bible comes alive in this epic story from an award-winning team, with major credits on films including Star Wars, The Empire Strikes Back, and The Miracle Maker. Friends and Heroes traces the tale of two friends - Macky and Portia - whose adventures lead them across the ancient world as they fight for justice and even survival against the might of the Roman Empire. In "Exodus", Portia invites Lydia, her tutor, to Macky's house for Passover dinner. When Leah recognizes Lydia as her kidnapper, she becomes terrified and decides to flee. Stories of the burning bush and the Passover teach Leah that God can protect her. After too many close calls, Samuel decides it's tme for his family to leave Alexandria, and he retells the story of the Last Supper. Through these experiences and retellings of Bible stories, kids will learn the importance of overcoming fear and moving on. In this episode you'll see the Old Testament adventure of Moses and the Exodus like never before. Experience the New Testament story of the Last Supper as if you were there!
In Exodus, as Macky's family and guests celebrate Passover, Portia brings her Roman tutor with her to dinner, but Leah recognises Lydia from the sweatshop incident.
As a result Lydia gets Toadie to intimidate the whole family, but after retelling the stories of Moses and the Exodus and The Last Supper the family are inspired to overcome their fear and accept they must move on..


Product Details
Producers:

Friends and Heroes Ltd.

,

David Dorricott

,

Alison Dorricott

Format:

NTSC

Studio:

Tyndale Entertainment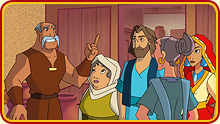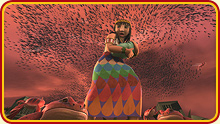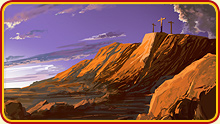 Find Similar Products by Tag
Find Similar Products by Category
Customers Who Viewed This Product Also Viewed